Weeds remain a significant threat to the health of Australian landscapes, conservation values and the productivity and profitability of agriculture.
In providing its investment of $20 million in the Centre for Invasive Species Solutions (the Centre), the Federal Minister for Agriculture and Water Resources requested the Centre to develop a 10-year Investment Plan for Weed Research, Development and Extension (RD&E) that aims to improve weed management in Australia.
The process
Stage 1 – Consultation paper release and request for feedback sought (April 2018 – July 2018)
Stage 2 – Exposure draft release and request for feedback sought (September 2018 – Feb 2019)
Stage 3 – Feedback from exposure draft incorporated into final plan (March 2019 – June 2019)
__________________
Stage 3 – final plan in development
__________________
Stage 2 – now complete 
Incorporating feedback from the consultation draft, the second stage of creating this investment plan, is the exposure draft (downloadable via the image below). The exposure draft is based upon an initial analysis of the state of weeds R,D&E funding in Australia, and initial Australia-wide consultation. The Plan is a decadal plan covering 2020-2030, and it is important that the consultation continues to ensure the Plan has impact.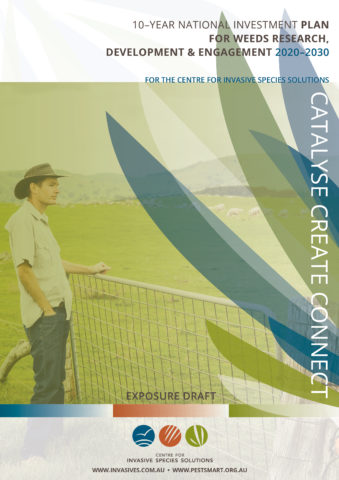 ____________________
Stage 1 – now complete
This consultation summary (downloadable via the image link below) was the first stage of a consultation process to develop a national weeds RD&E investment plan for the Centre. Such a plan would guide the Centre's future investment in weed RD&E and help determine where and how the Centre could facilitate greater coordination of the national RD&E effort addressing weeds.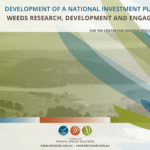 ____________________