National survey results show strong support for new innovation
The Australian Bureau of Agricultural and Resource Economics and Sciences (ABARES) has released its 2nd Pest Animal and Weed Management National Survey which is now undertaken every 3 years.
You can view the complete report by clicking on the image below: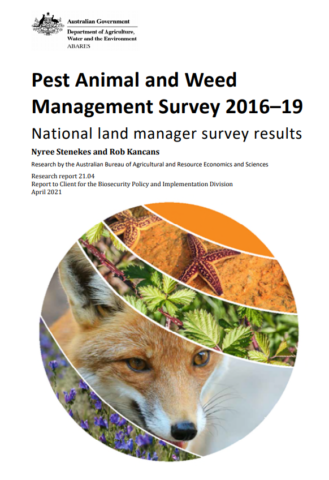 A total of 6,470 land managers participated in the 2016 survey and a slightly larger group of 8,059 participated in the  second survey conducted in 2019.
Survey participants were asked if they were aware of or had participated in specific major programs/initiatives for pest animal and weed management in the past 12 months.
Our Centre was particularly pleased to see the highest level of awareness achieved was for the national release of the RHDV1 (K5), the Korean strain of the rabbit calicivirus, released during March 2017, of which 30% of survey respondents were aware of this program.
National Plans, such as the National Wild Dog Action Plan also had strong awareness.
A new question was also asked in this new survey which was about whether land managers were interested in the use of biological controls on their property.
The results found that 38% of land managers were very interested in using new biological control tools on their property if they become available in the future.
In both surveys, the most important action that land managers thought could improve pest animal and weed management was having new or improved control methods (or tools) (63% and 59% of land managers in 2016 and 2019 respectively, rated this as important or very important).
Respondents also emphasised greater access to information on control options/methods also remains a priority for land managers (55% of land managers in 2016 and 53% of land managers in 2019 rated this as either important or very important).
Our Centre was extremely pleased to upgrade our PestSmart resource which was re-launched last year, and hope that this starts to better support land managers with access to information via pestsmart.org.au
Regarding emerging issues, land managers indicated a number of pest species had recently arrived on their properties, with feral deer the most commonly reported pest animal, followed by kangaroos, feral pigs and wild dogs.
These results emphasise our Centre's investment in our national collaborative feral deer RD&E program and the recent hiring of the National Deer Management Coordinator, akin to the National Feral Pig Management Coordinator and National Wild Dog Management Coordinator.
You can read the media release put out by ABARES here – https://www.agriculture.gov.au/abares/news/media-releases/2021/farmers-fight-contain-feral-animals