Enhanced innovation can help us detect biosecurity threats faster and more accurately. A recent innovation that could enhance our biosecurity system is the advancement of eDNA analysis.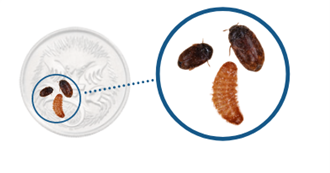 In April 2021, in collaboration with the Centre for Invasive Species Solutions, the University of Canberra and Qube Holdings, we have tested a world first survey using eDNA and eRNA analysis techniques to detect khapra beetle, Trogoderma granarium (image above), in sea containers. Khapra beetle pose a major threat to Australia's billion-dollar grains industry and recent investigations suggest that it likes to hitch rides around the world in sea containers.
So what is eDNA? eDNA stands for environmental DNA, which is basically the hairs, skin cells, urine and other excretions left behind by organisms in the environment. By collecting soil, dust or water samples we can test for a certain organisms' DNA to determine if it's present in the area or not. If it is present, we can go a step further and test for eRNA. If eRNA is found it means the organism is not only present but alive!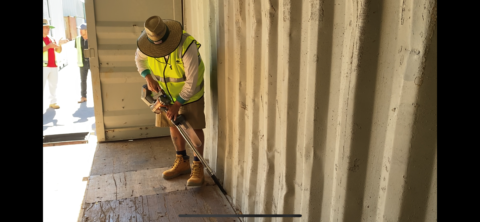 Through the Centre for Invasive Species Solutions, Dr Alejandro Trujillo-Gonzalez (University of Canberra, pictured) has developed a real-time eDNA test for khapra beetle as part of the Biosecurity Innovation Program. Over the next few months, our officers and the sea container park staff will be collecting samples for Dr Trujillo-Gonzalez to test for the presence of khapra beetle.
Samples will be collected by vacuuming and sweeping the inside, underside and door seals of containers (watch the video above). Officers will be sampling 20ft and 40ft containers that have held a range of agricultural and non-agricultural goods from a variety of countries.
The results of this survey will allow biosecurity officers to identify the rate of containers contaminated with khapra beetle arriving in Australia and as a result, will inform 'assessment of the risk' posed by containers.
This new analysis may result in changes to khapra beetle urgent actions and could be a solution to identifying khapra beetle quickly at the border.
Find out more about our eDNA research program funded through the Australian Government here – https://invasives.com.au/research/biosecurity-edna/
All images used with permission and supplied by the Australian Government Department of Agriculture, Water and Environment