A potential new non-lethal and ethical approach to control invasive mammal pests was showcased at a briefing held at the South Australian Health and Medical Research Institute in Adelaide on Tuesday 31 October.
Hosted by the Centre for Invasive Species Solutions and the University of Adelaide, the briefing introduced guests to a world-first breakthrough in gene drive technology.
The University of Adelaide discovery is the first time a new genetic tool has been identified that is able to induce female infertility into a mouse population, offering a non-lethal way to control mice and rats. Importantly, these findings could be transferred to control other pests, such as rabbits and feral cats.
Andreas Glanznig, the Centre's CEO, said that the research was an exciting breakthrough given the impact that invasive mammals have on Australia's native wildlife, agricultural sector and everyday Australians.
"Rodents, rabbits and feral cats are some of the greatest threats facing our endangered species. They cause substantial problems for our unique flora and fauna and Australian producers, with an Intergovernmental Science-Policy Platform on Biodiversity and Ecosystem Services report released earlier this year revealing invasive species cost Australia approximately $25 billion every year in losses to agriculture, environmental harm and management costs," said Mr Glanznig.
"It's clear that new tools that are safe, species-specific and non-toxic are urgently needed as 21st Century solutions to deliver landscape scale control of target pests. This new gene drive strategy has the potential to do that, allowing significant benefits to flow through to our environment, livestock industries and broader community."
Professor Paul Thomas from the School of Biomedicine, Faculty of Health and Medical Sciences at the University of Adelaide led the team involved in the research and provided the briefing to guests on Tuesday evening.
He said that the groundbreaking research could transform vertebrate pest management on a global scale and pointed to existing international collaborations involving the technology.
"We have proven the potential for this technology to work in mice, and identified its transferability to other pest species. The next stage is to operationalise the technology and explore extending its use to other pest animals," said Dr Thomas.
"Of course, these types of initiatives require support, and whilst seed funding has helped get us to this critical point, the next stage will require further investment from partners to realise the technology's full potential."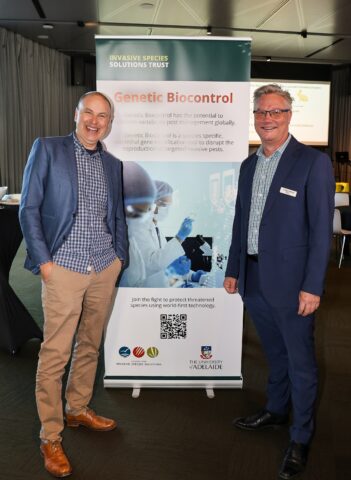 This species-specific technology creates the opportunity for the control and potential eradication of several vertebrate pests in a safe and controlled way.
For more information, view the Centre's latest video highlighting the benefits of genetic biocontrol research.