By Brian Cooke, Ron Sinclair, David Peacock, Peter Bird, Bruce Munday and Tanja Strive.
It is with great sadness that we announce the passing of Greg Mutze, who lost his battle with cancer last month. Greg was an internationally renowned rabbit researcher, who made many critical contributions to both rodent and rabbit management throughout his long career. He was also an influential rabbit researcher in the previous Invasive Animals CRCs and the early phase of CISS.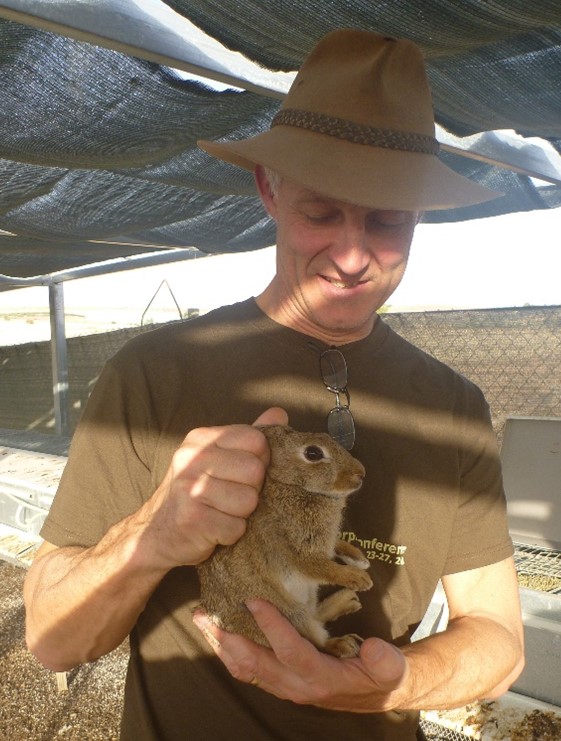 Greg Mutze,  an internationally renowned rabbit researcher and a very practical ecologist.
Gregory Mutze grew up in country South Australia, where his father was the local doctor for the community of Saddleworth. His secondary education was completed at Immanuel Lutheran College in Adelaide and from there he went to Adelaide University. In some ways Greg was an accidental ecologist, finding that he did well in studies on botany and ecology after he began university.
At the time he was also heavily involved in sport, playing Australian Rules football for Central Districts in Adelaide. Eventually, however, he opted for a career in science rather than football. He nonetheless maintained his athletic physique and could easily be spotted at conferences as the fit guy who stood taller than most, and whose dinner plate sized hands made the catering coffee mugs look dainty.
When Greg first joined the South Australian Vertebrate Pests Control Commission (subsequently the Animal and Plant Control Commission and later part of Biosecurity SA) as a fresh graduate in 1979, he was appointed as an Advisory Officer and participated in rabbit control experiments at Manunda sheep station in north-eastern South Australia. He then managed dingo control efforts along the 'dog fence' before being appointed as a Research Officer specializing in mouse control in croplands. His work was used to design baiting trials to protect crops so that when south-eastern Australia was confronted with another huge mouse plague in 1993, Greg's recommendations saved $20m in South Australia alone. Later, Greg was instrumental in developing zinc phosphide as the broadacre rodenticide further saving Australian farmers many hundreds of millions of dollars. Greg was deservedly recognised as the mouse expert in Australia.
Greg maintained a broad interest in rabbit control and collaborated in work to reduce rabbit numbers in the Coorong National Park. He was directly involved in two critical rabbit biocontrol events — the release of the Spanish rabbit fleas as vectors to accelerate the spread of myxomatosis in arid Australia, and later in assessing the impact of Rabbit Haemorrhagic Disease virus (RHDV) after it spread from Wardang Island onto the mainland. This led naturally to more research into the benefits of the virus spread for native flora and fauna. Long nights counting rabbits and kangaroos in the Flinders Ranges were followed by hot days processing trapped rabbits as part of epidemiological studies or making assessments of regrowing flora.
Greg continued working on the post-RHD impact of rabbits on native plants and animals and this stands out as one of his greatest legacies because he was the first to demonstrate experimentally that, even at very low densities (less than a rabbit/hectare), rabbits have a large impact on native ecosystems. Greg communicated his findings widely in research reviews and at conferences. When his findings on rabbit damage were not readily acknowledged, and rangelands ecologists continued to look elsewhere to explain the lack of regeneration, Greg, undaunted, published a paper entitled 'Barking up the wrong tree' — a play on words alluding to the rabbits' impact in ringbarking and killing young shrubs and trees.
Greg was amongst the first Australian rabbit researchers who recognised the importance of studying the development of genetic resistance to RHDV. Some of which was facilitated through his involvement in the previous Invasive Animals CRC, where he was also a joint Rabbit Theme Leader and influential member on the Invasive Animals CRC Rabbit Biocontrol Scientific Committee. A strong proponent of the long-term monitoring of rabbit populations and the epidemiology of viral biocontrols, Greg also had substantial input into setting up the current CISS Rabbit Biocontrol Program before his retirement in 2018.
Greg's listed diverse areas of expertise on 'ResearchGate' spanned demography, ecology, vegetation ecology, biodiversity conservation, biological pest control and epidemiology. He had over 110 scientific publications of which 60 are refereed papers and book chapters. He published in many scientific journals and regularly gave lectures and designed practical field activities for training schools attended by local government pest control officers. These schools also formed parts of university natural resource courses.
Just a month short of his 65th birthday, a consistent picture of Greg enthusiastically sharing his knowledge shows through in the heartfelt comments from many of his contemporaries — from new students to internationally recognized academics and his friends and neighbours. He was an important scientist who made significant contributions to South Australia's rural economy and the preservation of natural flora and fauna, but most importantly he influenced many others to follow his lead.