Automated data collection from e-commerce marketplaces that facilitate wildlife trade
The growth and commercialisation of the internet has greatly modified the environment in which pet markets and illegal wildlife traders can operate. This online trade has changed the characteristics (number of species, and species types) and dynamics (trade routes and distances, and frequency of trade).
Given the complex and cryptic nature of these online networks, the development of advanced web intelligence techniques is core to the successful disentanglement of the trade. As online trade platforms and networks grow, so too does the inadvertent risk of new vertebrate introductions and invasions, as a result of intentional or unintentional release.
One of our Centre's projects led by the University of Adelaide is focused on developing automated data-mining/web-scraping code to identify and characterise the illegal or unwarranted selling of alien species through e-commerce platforms (e.g., Gumtree, Facebook, enthusiast forums, lost and found websites).
The aim of the project is to inform biosecurity agencies, assist in detection of illegal wildlife in Australia, and increase predictive capacity of early surveillance for invasive species
The over-arching goal is to extract and tease apart the enormous quantity of relevant online information that is available. Using automated web-scraping techniques and analytical approaches, the project will assist biosecurity agencies and decision-makers to take early preventative action to protect the environment and economic activities (e.g., agricultural, environmental, and social assets). The illegal trade, and the unintentional release, of alien vertebrates is a serious ongoing risk to reputational border biosecurity.
Associate Professor Cassey and the team are working with members of the Environment and Invasives Committee, and biosecurity staff specialists within government departments to ensure that a nationally appropriate tool is developed that can be used by all jurisdictions, and the Commonwealth Department of Agriculture, Water and Environment.
Given the versatility of this tool, there is currently a proposal to adapt it for the trade in exotic weed plant species.
The project profile can be found here https://invasives.com.au/research/understanding-intervening-illegal-trade-non-native-species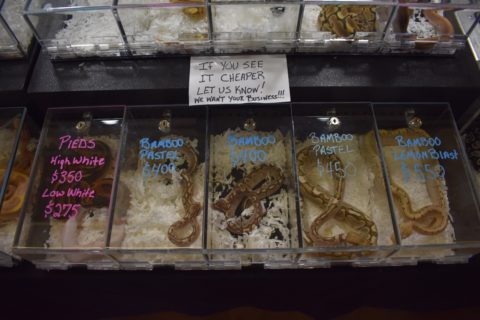 Image supplied by Adam Toomes