To help prevent new vertebrate pest problems, governments need to put systems in place to ensure that 'high risk' species are not imported into Australia.
In July 2014, Dr Michelle Christy, as part of a project initially started through the Invasive Animals CRC, was given the brief to better coordinate Australia's approach to the prevention, detection and response to new invasive vertebrate threats. As the inaugural National Incursions Response Facilitator, Dr Christy worked with stakeholders at the national, state/territory and local level to build a better collective understanding of the risks of new vertebrate pests and how to strategically manage these. Under the CISS banner, Dr Christy's scope expanded to include incursion preparedness for invasive species in general.
There is currently no specific emergency management framework for the invasive animal and plant sector. Although response activities may be carried out under the National Environmental Biosecurity Response Agreement (NEBRA) and the Emergency Plant Pest Response Deed (EPPRD), which align with the Biosecurity Incident Management System (BIMS). Dr Christy's project sought to bring together the above approaches under a single emergency management framework. It built on existing resources while identifying and addressing risks specific to the invasive animal and plant sector.
After many meetings, facilitation of workshops and engaging with stakeholders both within Australia and across the globe, Dr Christy, together with a reference group, completed the final draft of a National Vertebrate Incursion and Response Strategy (2019-2024), which was submitted to the inter-governmental Environment and Invasives Committee. Along with this document, Dr Christy also developed an InvasivePlan Compendium from the outcomes of the Invasive Plan Framework, literature searches and workshops. This Framework has now been delivered to the Australian Government for further action and was acknowledged as an '2019 achievement' by the National Biosecurity Committee.
Specialist documents have also been prepared including a National Incursion Response Plan for Terrestrial Snakes and an extension material resource kit for ten future vertebrate pest risks, such as oriental garden lizard.
In 2017, Dr Christy gave a keynote address at the 17th Australasian Vertebrate Pest Conference and this was widely agreed as one of the highlights of the conference (pictured). She is also worked closely with many state and territory colleagues to ensure that their incursion prevention and response strategies were well informed and developed.
Andreas Glanznig, CEO of CISS said that Dr Christy was a major driver to strengthen the national coordination of vertebrate pest incursion response.
"Michelle has developed some extremely important framework documents to enable Governments to respond to incursion threats, and the time is right with Australia's increasing role in global trade and tourism," Mr Glanznig said.
Dr John Virtue General Manager – Strategy, Policy & Invasive Species with Biosecurity SA, who worked closely with Dr Christy as the CISS incursions domain co-leader said she brought energy, passion and professionalism to the invasive species incursions space.
"Michelle worked at the interface between invasive species policy, science and operations. She identified and progressed much needed national improvements to reduce the threat of and build preparedness for responding to new pests," Dr Virtue said.
Ian Thompson, Australia's Chief Environmental Biosecurity Officer also worked closely with Dr Christy over the past 12-24 months and said
"Dr Christy's work fleshed out a major gap in environmental biosecurity of an organised framework for preparing for and responding to incursions. Her goal of preparing a response framework that can work at all scales, local, regional to national is one we can all share".
Dr Christy has now completed her role with the Centre, hosted by the WA Department of Primary Industries and Regional Development. We wish her the best of luck in her future endeavours.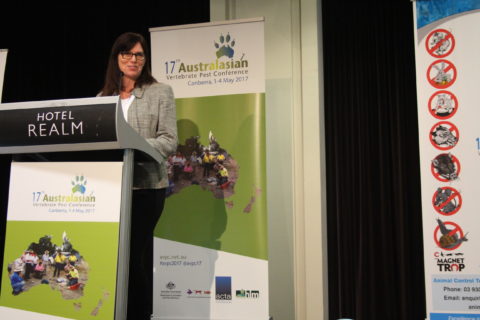 Dr Michelle Christy giving her keynote address at the 17th Australasian Vertebrate Pest Conference in Canberra during May 2017.