The work of the Centre for Invasive Species Solutions will be strengthened by the Federal Government's recent funding announcement regarding the National Pest Animal Management Coordination Program.
The increased funding will advance the activities of the Centre's National Feral Cat and Fox Management Coordinator Program and the National Wild Dog Action Plan and supports the Centre's drive to reduce the $25 billion annual cost of invasive species in Australia.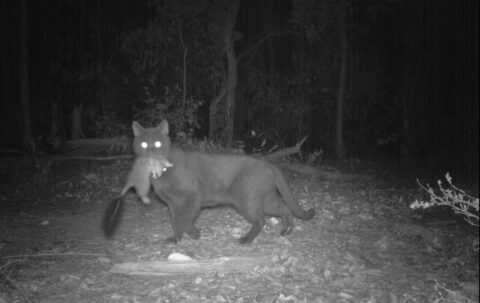 Research shows feral cats and foxes kill and eat 697 million birds, 510 million reptiles, 1.4 billion mammals and well over 1.1 billion invertebrates every year. Credit Marika Maxwell.
Mr Bruce Christie, Chair of the Centre, said "This funding announcement highlights the Federal Government's commitment to working alongside organisations such as ours to combat the devasting environmental, social and economic impacts of invasive species.
Although Australia is a leader in containing pests and weeds, there is always more we can and should be doing to prevent the spread of invasive species. This funding increase will enhance the Centre's capacity to guard our unique ecosystem against such threats".
The Centre employs National Coordinators to support the coordinated, best-practice management of feral cats, foxes and wild dogs as well as supporting externally based National Coordinators for Wild Deer and Feral Pigs.
Ms Gillian Basnett, National Feral Cat and Fox Management Coordinator, said "I'm excited to continue working with the Federal Government and other key stakeholders to enhance the national coordination of invasive species control.
This ongoing funding for national coordination means we can build on work we have undertaken over the first two years of the project. We can better equip landholders and land managers in effective on-ground management programs, seek to decrease the number of native animals threatened by feral cats and foxes and reduce their agricultural impacts".
Mr Geoff Power, Chair of the National Wild Dog Action Plan Coordination Committee, said "This is great news – it gives us the opportunity to deliver current activities and will better support our efforts over the coming two years.
We still have a lot of work to do and need to keep the foot on the pedal, but this funding goes a long way in protecting our biodiversity system, our way of life, as well as enhancing productivity".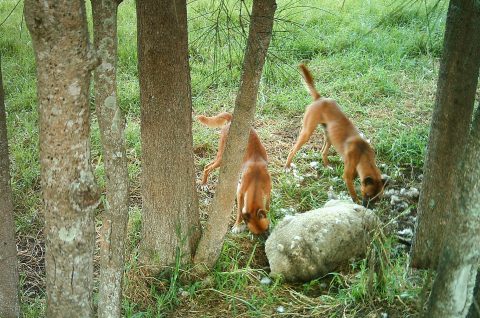 Predation on livestock conservatively costs the Australian economy upwards of $89 million a year. Credit Troy Wilton.
More information:
Visit the Wild Dog Toolkit on the PestSmart website for more information on wild dogs, their impacts and management.
Planning Guide for Feral Cat Management in Australia
Planning Guide for Fox Management in Australia