Samples wanted from your Autumn rabbit control programs
Autumn is a prime time for many public and private land managers and community groups to undertake coordinated rabbit control programs, some of which use the biocide RHDV1-K5.
Researchers are still very interested in understanding how effectively rabbit viruses are working within the Australian landscape and are asking for you to send samples through if you notice dead wild rabbits post management.
HOW?
Sending in samples is relatively easy through the click of a few buttons on our RabbitScan application. Follow the prompts to request a tissue sampling kit; you will just need to freeze the rabbit while you are waiting for the kit to arrive.
WATCH THE SHORT VIDEO TUTORIAL
When you report disease on RabbitScan the research team will send you everything you need to collect a sample, including a reply-paid envelope to get the sample back to us. Once the results are in, you will get a notification updating you on the findings. 
It's a very straight forward and easy process that doesn't take much time.
You can submit as many samples as you like, the more the better, even if they come from the same location.
Recording and submitting rabbit samples is critical to the tracking and monitoring of RHDV in the environment as well as the impact of the exotic strain RHDV2. By adding to these records, you are contributing to the development of improved best-practice methods for controlling rabbit populations in Australia.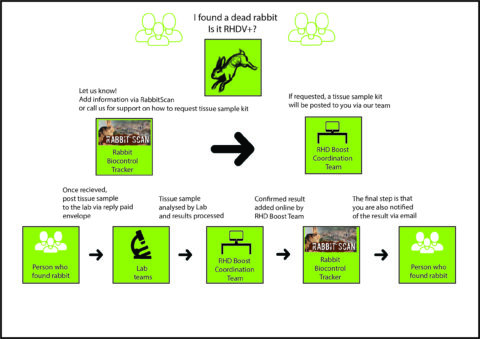 WHY?
Understanding when and where viruses are most productive and how the different viruses interact can help inform farmers and the community on strategic rabbit control in their area and ensure their control has the best impact on the populations.
This information will build on Australia's rabbit biocontrol map, already in development.
VIEW THE RABBIT BIOCONTROL TRACKER NATIONAL MAP
The current National Rabbit Biocontrol Collaborative Research Program coordinated through the Centre for Invasive Species Solutions is supported by the Australian Government, NSW DPI, PIRSA, Arthur Rylah Institute VIC, CSIRO, Meat and Livestock Australia and Australian Wool Innovation.
Please note that the RabbitScan disease monitoring resource is designed for understanding rabbit virus movement in wild rabbits, if you are concerned about a domestic rabbit death, we ask that these are submitted directly to the labs so that different information can be collected. You can email us through our contact form for further information.