A state-of the-art thermal camera has provided exceptional vision of feral deer in dense bushland aiding the work of professional shooters in a recent aerial culling trial in the Limestone Coast region of South Australia.
An aerial culling trial of fallow and red deer was undertaken by helicopter over two-and-half days during September 2021 as part of the National Deer Management Coordinator project delivered by the Centre for Invasive Species Solutions.
"Thermal camera technology has proved to be a very effective tool to use in aerial culling of feral deer in vegetated areas — it's definitely one to add to our suite of management options," said Dr Annelise Wiebkin, National Deer Management Coordinator.
Feral deer are a growing problem in Australia. As they spread into new areas, they eat pasture and crops, damage native habitats and fences, and in some cases have become a traffic hazard.
"Feral deer often hide in bushland during the day making them difficult to spot.
"By having the camera operator and marksman sit side-by-side on the left side of the helicopter, the marksman was able to reference his own smaller thermal scope against the footage of the more powerful video camera," said Dr Wiebkin.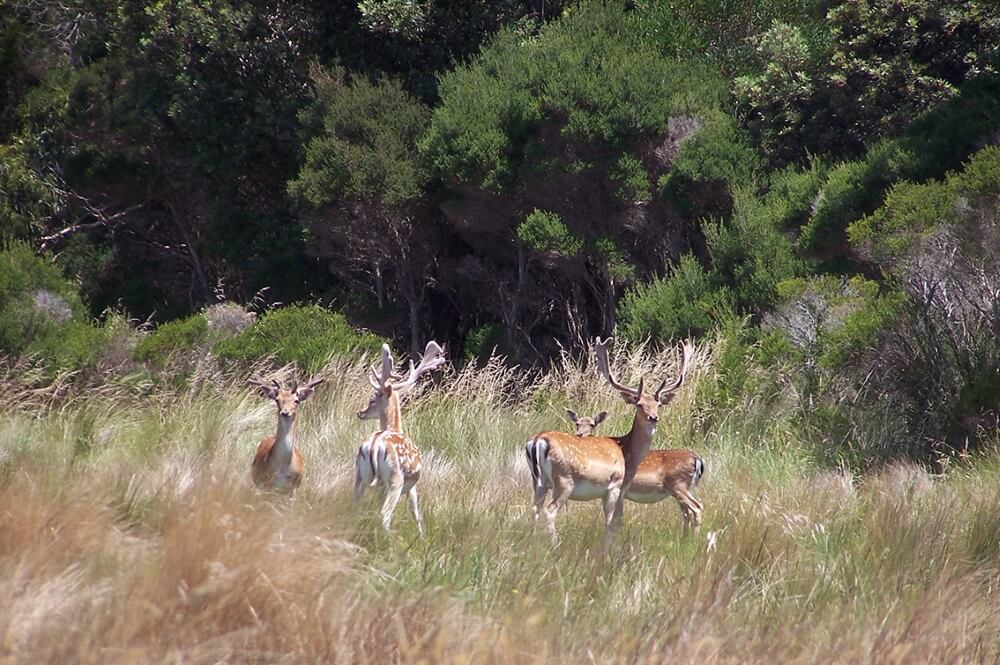 Feral deer can quickly disappear from view into bushland areas. 
Credit: Brian Boyle.
The high-quality video feed enabled feral deer to be readily distinguished from other large warm-bodied animals such as kangaroos, sheep and cattle — as shown in this short 'Not so hidden' video  produced by the National Feral Deer Action Plan.
"One of the strategies that mobs of feral deer use to avoid detection is to split up and move in different directions. With the thermal camera aiding our airborne shooter, we were able to track one part of the mob, deal with them, and then quickly reacquire the remaining feral deer."
"Using the thermal camera in our aerial operation allowed us to systematically remove feral deer from small patches of bush. This also took away their opportunity to persist in the landscape and learn how to avoid this new culling method."
"Based on our trial results I'd expect thermal camera assisted culling to be a promising option for eradicating small satellite populations of feral deer scattered under dense canopies," said Dr Wiebkin.
The National Deer Management Coordinator project is funded by the Australian Government Department of Agriculture, Water and the Environment, and led by the South Australian Department of Primary Industries and Regions.