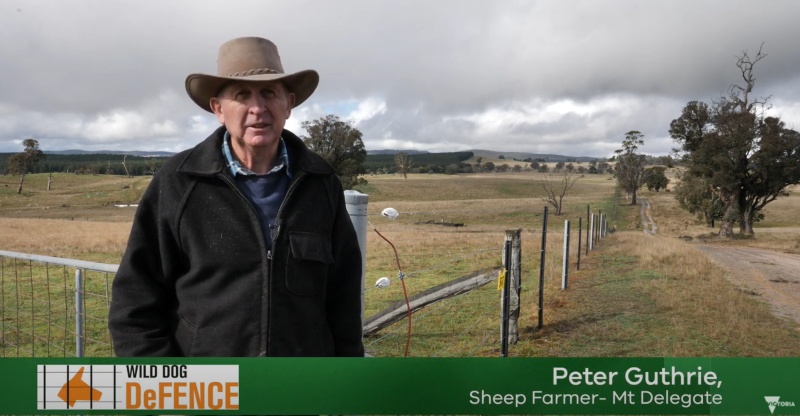 Farmers in Mt Delegate are getting a good night's sleep thanks to new wild dog exclusion fencing.
Funding through the Australian Government's Communities Combating Pests and Weed Impacts During Drought – Biosecurity Management of Pests and Weeds program enabled several farmers in the tightknit Victorian community to construct wild dog exclusion fencing on their properties.
Doug Cameron, Peter Guthrie, Archie and Irene French, Shaun Walcott and Aaron Bruce all took advantage of the opportunity provided by the DeFENCE Project, which also involved the East Gippsland Shire Council, East Gippsland Landcare, Australian Wool Innovation (AWI) and the Department of Environment, Land, Water and Planning (DELWP).
Doug admits that he wasn't confident that the fence — which comprises five hot wires to exclude wild dogs and a sixth to deter kangaroos — was really going to work and retained the old fence to be sure. It's a decision he now admits was unnecessary as the new fence is "doing all it was required to do, and more." The new fence paid for itself within 12 months thanks to a massive increase in Doug's lambing percentage.
Prior to the fence's construction, Doug joined 1200 ewes and marked 700 lambs. After the fence was built, he joined the same number of ewes but marked more than 1400 lambs — a number he'd never have imagined when he was "in the thick of it" with wild dogs. Doug features in one of a series of videos produced as part of the DeFENCE Project.
The DeFENCE videos cover gully crossings and new fence construction. They also contain insights into the significant productivity gains and the turnaround time to profit experienced by the producers.
The videos are unscripted, and at times very raw and revealing at a personal level.
DELWP thanks all the producers involved for participating in the DeFENCE videos.